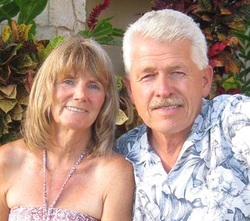 Sharon Reed-Hendricks, poet and author, has published two books of poetry; "Sharon Shares Her Heart" and "From Where Eagles Soar" as well as her new book "One Man's Dream - One Woman's Reality" co-authored with her husband Steve.

Sharon has written numerous articles for several sailing magazines, including:
> 48 Degrees North
> Cruising World
> Northwest Yachting

Sharon won the International Speech Contest for Toastmasters and she was winner of the Gold Metal for the Poetry of Forgiveness Awards in Hawaii in 2009.

Sharon and Steve have made numerous radio and television appearances regarding their latest book. They spoke at the Seattle Boat Show about their six year sailing adventure.

Steve Hendricks, captain, shipwright and professional facilities manager, has built and rebuilt numorous boats in his sailing career. He continues today in this line, with marine surveying and consulting.

Steve and Sharon will soon be landcruising in their motorhome as their book tour begins this summer, look for them visiting your area in the near future. Please contact them to confirm speaking engagements for your organization when they will be in you area.
---