Read the book >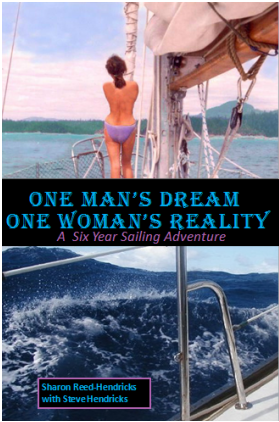 The sailing adventures of S/V Poets Place
In June of 1999 Steve and Sharon Hendricks set off on the adventure of a lifetime. They sailed the world to wherever the wind would take them.
They began five years earlier with an old derelict Buchan 37' sailing sloop. This is the story of how they started with nothing and put together their greatest life adventure.
Do you have a dream? Do you think you can't live out your dream because you have to work-- don't have enough money or time. Poet and author Sharon Reed-Hendricks says it all in a verse from her poem
Maybe
.
Maybe you can't live your dream out
For you have work to do
Well you can wait for the right time
But time won't wait for you
The book is written from her point of view and his point of view (sometimes very different)
Share in the dream by reading their book and discover how you might follow your dream. Order the book -> below
Steve & Sharon will do a slide presentation and book reading/signing for your club or organization, just email or call us.
We will be on National Book Tour ( May
thru September)
with our motorhome, doing seminars and book singings. Let us
know if you would like to attend one of our presentations when
we are in your area.
Email us at:
Svpoetsplace@yahoo.com
Phone 808-292-4164
Kindle version here
---